第104期:世界首富马斯克发了首《七步诗》,被1000人打赏...
日期:2021-11-03 09:28
(单词翻译:单击)
Bloomberg:
Elon Musk tweeted an ancient Chinese poem about two brothers who fight out of jealousy, in what some Twitter users said could be an oblique reference to the Dogecoin vs Shiba Inu cryptocurrency spat.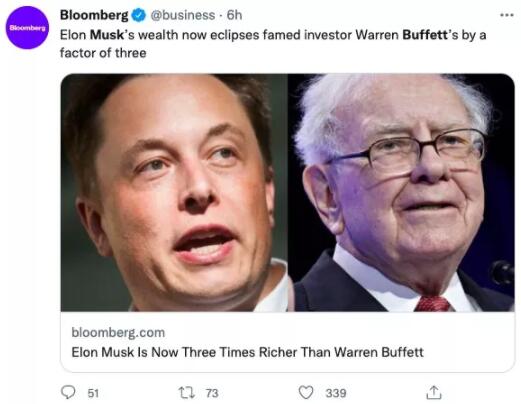 The tweet, posted Tuesday by the world's richest man, was titled "Humankind," followed by the poem in Chinese. Known as the "Quatrain of Seven Steps," the allegorical poem is often attributed to Cao Zhi, a member of Chinese royalty who lived between 192 and 232. Legend goes that Cao's older brother, freshly crowned king and suspicious his more popular brother is trying to usurp his rule, forced him to produce a poem that would proclaim his innocence.
Translated, the poem reads:
"Beanstalks are ignited to boil beans
The beans in the pot cry out
We are born of the same root
Why should we incinerate each other with such impatience?"
生词短语:
out of jealousy
出于嫉妒
oblique
隐晦的
reference
提及
cryptocurrency
加密货币
spat
口角;争吵
quatrain
四行诗
Aesop's Fables
伊索寓言
allegory
寓言
royalty
王室;皇族
crown
王冠
usurp
篡夺
proclaim
宣告
innocence
清白